Assistant Teaching Professor of African Studies
Coordinator of African Studies Brown Bag Series, 2017-2021
Area(s) of Specialization: Agro-pastoral sustainability, environmental change and society, natural resource conflicts, political ecology, Sub-Saharan Africa, and international development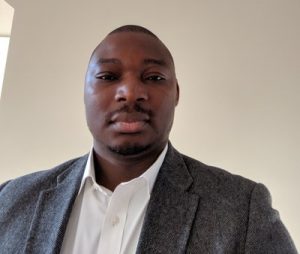 Education
University of Missouri-Kansas City, Ph.D. (Interdisciplinary) Geography and Social Science Consortium, 2015
Professional Bio
Richard Mbih is a Geographer by training whose research interests focus on natural resource management, environment and development studies in Sub-Saharan Africa. His research is in the areas of agro-pastoral sustainability, environmental conflicts and alternative conflict management, and community resilience to climate change.
Currently, Professor Mbih is engaged in two human-environmental security related research projects. The first examines the effects of climate change on agro-pastoral conflicts between indigenous farming and Fulani pastoral communities. The study also explores the adaptation and mitigation strategies which are adopted by vulnerable African communities in the face of environmental change, particularly in Northwest Cameroon.
The second project investigates the effects of the current Anglophone crisis in Cameroon on human displacement, leading to the marginalization of the English-speaking minority in Cameroon who are now refugees in neighboring Nigeria, the United States and Mexico.
Courses taught
AFR 105: African Biodiversity and Conservation
AFR 110: Introduction to Contemporary Africa
AFR 494: Research Project
AFR 496: Independent Studies
AFR 209: Poverty in Africa
AFR 234: Environment, Climate Change and Resilience in Africa (new)