African Studies Program
at Penn State
The mission of the African Studies Program is to teach and research about Africa, in all its immensity and diversity from the ancient past to the present. As an interdisciplinary program, we cover topic areas in history, culture, geography, economics, politics, and literature, with specific focus in areas such as feminism, development, linguistics, extractive economies, and post-colonial studies in the shaping of modern-day Africa.
Our faculty and faculty affiliates bring their expertise, from these wide range of disciplines and schools across Penn State, to make this program unique in its scope and commitment to student learning.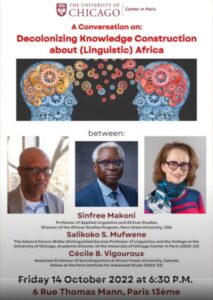 A Message from Dr. Salikoko S. Mufwene on Decolonizing Knowledge Construction About (Linguistic) Africa - Video
Please check out this video of our Conversation. It will be posted to the website of the University of Chicago Center in Paris. My advisors say it was so successful that we should consider a follow up. Please let me know what you think.
Thanking you both [Cécile B. Vigouroux and Sinfree B. Makoni] for your collaboration,
Salikoko S. Mufwene
https://www.youtube.com/watch?v=BAkRpXAk-ZE
The Edward Carson Waller Distinguished Service Professor of Linguistics and the College Professor, Department of Race, Diaspora, and Indigeneity Professor, Committee on Evolutionary Biology Professor, Committee on the Conceptual & Historical Studies of Science Professor, Committee on African Studies, University of Chicago 773-702-8531; FAX 773-834-0924é, Department of Linguistics 1115 East 58th Street, Chicago, IL 60637, USA https://linguistics.uchicago.edu/salikoko-s-mufwene/http://mufwene.uchicago.edu/