African Studies Program
at Penn State
The mission of the African Studies Program is to teach and research about Africa, in all its immensity and diversity from the ancient past to the present. As an interdisciplinary program, we cover topic areas in history, culture, geography, economics, politics, and literature, with specific focus in areas such as feminism, development, linguistics, extractive economies, and post-colonial studies in the shaping of modern-day Africa.
Our faculty and faculty affiliates bring their expertise, from these wide range of disciplines and schools across Penn State, to make this program unique in its scope and commitment to student learning.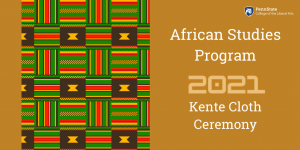 African Studies 2021 Kente Cloth Ceremony
The African Studies Program recognizes its graduating majors and minors at the Virtual Kente Cloth Ceremony. Kente is more than just a cloth. Like most of Africa's visual art forms, it is a tangible representation of history, philosophy, ethics, religious belief, and political thought. And, like art forms the world over, it figures in stirring celebrations of community life and personal achievement. When students are presented with the Kente stole, it not only symbolizes their transition and singular achievement, but places them in the context of prestige, gaiety, and glamor evident during festivals, historic commemorations, and other community events, where people proudly wear their best Kente to reflect the spirit of the occasion. Congratulations to our Spring 2021 Graduates!