Professor Emerita of Art, Art Education, Integrative Arts, and African Studies
Area(s) of Specialization: African and African American Art History and the Development and Assessment of Arts and Integrative Arts Curricula, and Community Based Arts Programs. Art Studio specializations include: Drawing, Painting, Mixed Media, Fashion Design, and Jewelry.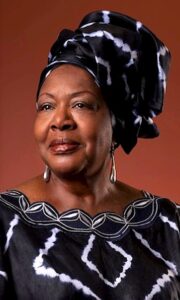 Office Hours
By appointment
Professional Bio
Dr. Grace Hampton has taught undergraduate and graduate art, art education, and Integrative Arts Courses at Illinois State University, Northern Illinois University, California State University at Sacramento, The University of Oregon in Eugene, Jackson State University in Mississippi, and The Pennsylvania State University at University Park. She also served as Assistant Director of the Expansion Arts Program at the National Endowment for the Arts in Washington, D. C. before arriving at Penn State. Since joining Penn State in 1985, she has served as Director of the School of Visual Arts, Vice Provost, Executive Assistant to the Provost for the Development of the Arts, Head of African and African American Studies, and University-wide Senior Faculty Mentor.
Dr. Hampton was awarded Emeritus Status by Penn State in 2014. She has published articles in The Journal of Negro History, and The International Review of African American Art, Studies in Art Education and Art Education. She was an exhibitor and member of the official U.S. delegation at the Second World Festival of Black and African Arts and Culture in Lagos, Nigeria. Dr. Hampton has participated in numerous visual arts and jewelry exhibitions throughout the United States. Citations and examples of her art work appear in The Arts We See by Lanier and Developing Artistic and Perceptual Awareness by Lindeman and Herberholz. She has received two Senior Fulbright Awards for the development of a research collaborative between Penn State, Kwame Nkrumah University  in Ghana and Ilorin University in Nigeria and a lecture series has been named in her honor by the National Art Education Association. Dr. Hampton continues to supervise independent study courses  and currently serves as a fellow in the Intergenerational Leadership Institute sponsored by the Penn State College of Agriculture, where she develops intergenerational arts and cultural programs.