Assistant Professor of Art History and African Studies
Area(s) of Specialization: Art and Visual/Material Culture, Francophone West Africa, Museum/Exhibition Studies, Architecture and Urbanism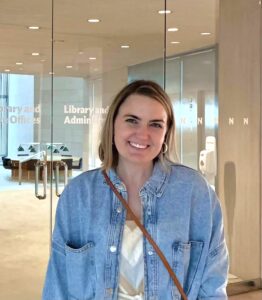 Professional Bio
Lauren Taylor (she/her) is an art historian specializing in the art and architecture of 20th century West Africa. In her writing and teaching, she examines the ways that visual and material culture produce meaning amid systems of political, philosophical, and economic exchange.
Her book-in-progress, The Art of Diplomacy in Dakar, examines the 1966 First World Festival of Negro Arts: a celebration in Dakar of the creative achievements of Black artists worldwide. This book investigates the artworks, architecture, and curatorial programming of the festival with respect to international Black identity, post-colonial relations with France, and Cold War politics.
Before arriving at Penn State, Taylor worked in curatorial and research departments at the National Gallery of Art, The Getty, and The Fowler Museum.